RRCA Appoints New Dance Director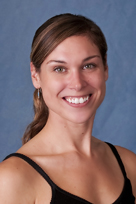 The River Raisin Centre for the Arts has named Melissa Moore as the new River Raisin Dance Academy Director, taking over from Kellie Lajiness. Melissa has been with the RRCA since 2004, as a dance instructor and the Assistant Director of the River Raisin Ballet Company.
Melissa holds a Bachelors of Arts in Dance Performance from Western Michigan University and an Advanced Professional Certificate from the Cecchetti Council of America.  As a scholarship student, Melissa danced soloist roles in Giselle and in George Balanchine's Who Cares? Melissa also attended, on scholarship, the University of Michigan where she studied modern dance with Peter Sparling and Sandra DeYoung.  She performed in the ballets Carmen and Raymonda with the Ballet Concerto of Fort Worth, Texas. Melissa has also performed contemporary works at the La Femme Dance Concert in Louisville, Kentucky. She began her early training from Gail Choate-Pettit in Monroe with additional studies at the Kirov Ballet Academy, Cleveland Ballet School, the Milwaukee Ballet as well as studies in England and Denmark. As a member of the Monroe Ballet Company, she performed soloist roles in Nutcracker, Cinderella, Le Sylphide, Coppelia and Graduation Ball. As a part of the River Raisin MusicTheater Company, she has danced in 42nd Street, Jesus Christ Superstar, A Funny Thing Happened on the Way to the Forum and Chicago.
 "The Dance Academy has a solid foundation built upon a strong educational vision" Melissa said. "As the new Dance Director I look forward to maintaining that vision as well as exploring new opportunities for our students."
Mike Trapp, the Executive Director of the RRCA, said "We look forward to the new opportunities and excitement that Melissa will bring to the Dance Academy. Kellie (Lajiness) did a wonderful job building our academy as the premier dance education program in the region, and Melissa will continue that as well as introduce new programs and ideas."
Kellie Lajiness founded the River Raisin Dance Academy in 1996 and served as both the director, choreographer and as an instructor since that time.
The River Raisin Dance Academy offers jazz, tap, ballet, and modern dance instruction at the RRCA campus.  Plans are under way for adding and expanding new programs and age levels to our curriculum as well as new dance spaces.
Important dates for the RRCA Dance Academy:
August 9-13- Returning Student Registration
Tuesday, August 10th- Dance Academy Open House
Tuesday, August 24th- RRCA Arts Education Open House
Tuesday, September 7th – First Day of Classes
The River Raisin Centre, governed by a board of directors, is a non- profit 501(c)3 performing arts center dedicated to educating, presenting, and producing. The RRCA is home to the River Raisin Dance Academy, RRCA MusicTheatre Co., River Raisin Ballet Company, Cantate Choir, River Raisin School of Music and the Arts Centre Orchestra.  In addition to the 12 Marquee Shows presented each year, the theatre hosts over 700 children a week through its arts education classes and camps.